collecting and visualising process data
Parsec and Actemium about Maas (MOMS as a Service)
Iago Rodicio, regional manager of Parsec Automation Corp., and Michel van Heumen, client manager Actemium, focus both on the concept: MOMS as a Service (MaaS). Parsec is a software provider with a very focused strategy on design, development and evolution of TrakSYS, a next generation Manufacturing Operations Management (MOM) platform. Their mutual approach and joined effort considering MaaS, will help the organisations to grow their business by delivering agile, extensible and scalable solutions for their common industrial clients. In this article they tell their vision of MaaS.
What is the MaaS concept?
The MaaS concept of Parsec and Actemium collects and visualises process data in real time and processes historical events into a clear dashboard. With the smart data collector, data can be extracted from your production process. This can be done by connecting to the process control or the installation of smart sensors. With the MaaS concept you can easily obtain detailed production information such as OEE (Overall Equipment effectiveness), energy consumption and Root cause analysis. Warns prematurely and alerts deviations.
Why is MaaS needed in the industry?
MaaS is a new paradigm that will be more and more deployed. Iago explains: 'The evolution of Information and Communication Technologies opens new possibilities that make the solutions more accessible, with a lower footprint, easier to maintain and faster to evolve.'
Michel adds: 'The industry is characterised by automated processes. These can be complex overall controls or stand-alone controls. However, there is often no key data on how efficiently production is carried out and how much energy is consumed per product. Or a root cause analysis for production improvements is missing. MaaS within the industry will become an indispensable tool for optimising production performance.' In short, it saves you money.
Taken steps regarding MaaS
Parsec launched in 2016 TrakSYS 10. This version of TrakSYS is 100% web based, allowing to explore different alternatives in terms of architecture. Iago: 'This gives our partners and clients the change to go to centralized solutions. MaaS is a natural evolution of this capability, allowing a more incremental approach for those clients who doesn't want to invest in software as an asset, but they feel the need of having the best technology available supporting their Opex plans. Now, Parsec has launched to the market TrakSYS 11, an evolution of our previous version with a new set of capabilities that will help to create even more advanced MaaS initiatives.'
With the TrakSYS software from Parsec, you can build a total MES/MOMS application in a modular way. An OEE (Overall Equipment effectiveness) measurement can already be established using one sensor. Depending on your needs, the TrakSYS application can be expanded into a performance dashboard. 'Because you run all your data through one TrakSYS database, your data can be applied in additional TrakSYS applications, such as; planning, maintenance and quality. The performance of your production process can be presented real-time anywhere and anytime', Michel explains.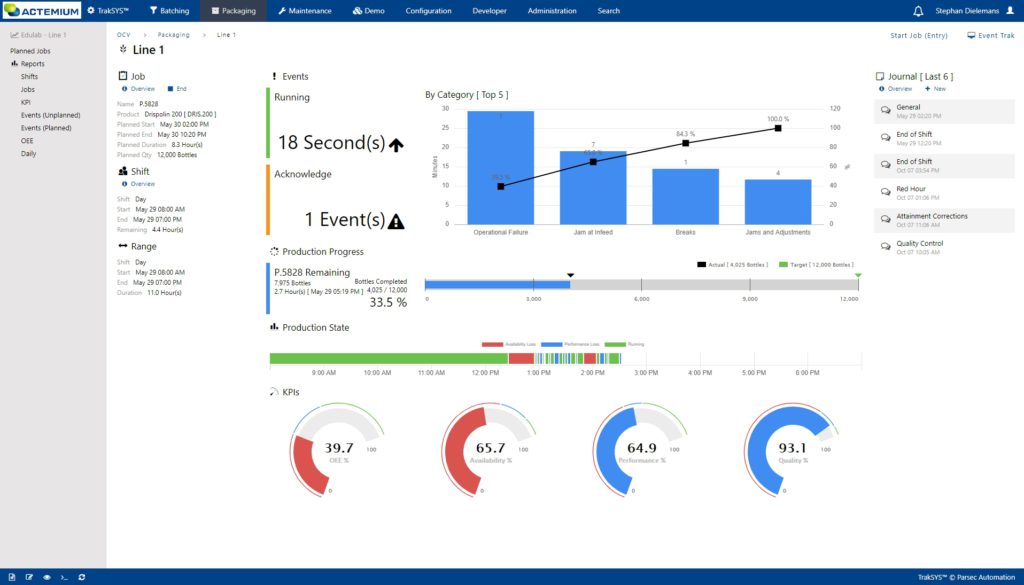 How Actemium and Parsec complement each other
Technology is only a piece of the cake. Subject matter expertise is key in order of extracting the highest value of technology. Iago says: 'Actemium demonstrates a great experience in this kind of projects, so we could say that this is the perfect mix.'
Actemium already has dozens of experience in implementing and maintaining various TrakSYS applications. Michel: 'The development is not standing still, looking at the new version TrakSYS 11. Thanks to the good support and training facilities, Actemium can optimally serve our customers around the world 24/7'.
What benefits do industrial companies have to this partnership?
'Businesses are usually cyclic. Sometimes clients don't have investment plans available but their need for improving performance is a constant. But in order to succeed, we must avoid complexities. Trusting on Parsec and Actemium our clients must know that they can receive the benefits of a great team without the need of doing very high investments from the beginning', Iago says.
Michel adds: 'It is important to determine the correct Key Performance Indicators (KPIs). Where you can see in one overview the performance of the production process. I advise to start with a small application. Depending on the experience and wishes of the employees you can expand the performance application. Our MaaS-concept offers the right tools for it.'
Bezoek één van onze evenementen en laat je inspireren
Blijf op de hoogte van de ontwikkelingen, ontmoet onze professionals en deel je ervaring met vakgenoten.
About Actemium
Without movement, everything stands still. Agility is key, also in the consultancy, engineering, realization, commissioning and maintenance of industrial installations. Committing and managing the appropriate expertise at the right time, all over the world. Responding flexibly to changes. Constantly seeking innovative Solutions & Services that will improve your processes. We call it Manage Movement.
The network of Actemium – the brand of VINCI Energies for industry – counts 20,000 specialists and 350 business units in 40 countries. In the Netherlands, 850 enterprising professionals, working from 23 business units, bring movement to industry. For clients active in oil & gas, food, brewery & beverage, feed, chemicals and pharmacy, wholesale & distribution and manufacturing.
About Parsec Automation Corp.
Parsec Automation Corp. (Parsec) is the developer of TrakSYS™, the leading real-time operations and performance management software. Manufacturing companies worldwide rely on Parsec for flexible and configurable tools to execute manufacturing operations across the value chain more effectively.
Without production disruption, TrakSYS™ helps manufacturers to significantly improve asset utilization and efficiency, increase capacity with no new capital equipment, reduce production costs, decrease lead time, and improve profitability. With measurable ROI, TrakSYS™ fuels Lean, Six Sigma, TPM, and Operational Excellence efforts. For more information about Parsec, please visit the corporate website at www.parsec-corp.com.
We zijn benieuwd naar jouw volgende stap en denken er graag over mee!
Stel daarom hier je vraag. Of neem contact op met een van onze experts.
Wij vinden het van belang dat zorgvuldig wordt omgegaan met jouw persoonsgegevens. Daarom hebben wij in ons privacystatement voor je uiteengezet hoe wij met jouw persoonsgegevens omgaan en welke rechten je hebt. Via bovenstaande checkbox geef je akkoord op het verwerken van jouw persoonsgegevens.